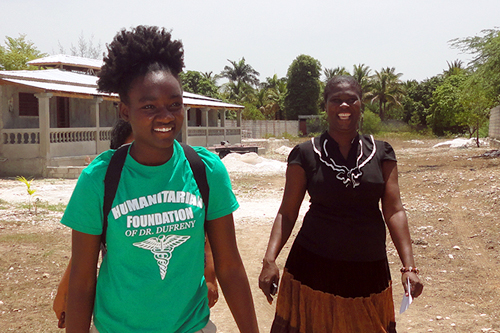 In August 2013, Jorett Joseph '15 traveled to Haiti to help create a literacy program at an orphanage with the nonprofit Humanitarian Foundation of Doctor Dufreny.
A student's discovery: research and a focused future
Jorett Joseph '15 says she could not have foreseen the experiences and studies she would embrace at Hamilton College, among them an Africana studies major and grant-funded research. She expected to major in government but fell in love with Africana studies and majored in both.
More >>
She secured a College grant for a research project, the first part of which examined the role and accomplishments of black women in mutual aid societies in the 19th and 20th centuries.
The second part looked at how young black women today can learn from the past and spread justice in their communities. For that, Joseph traveled to Haiti to help create a literacy program at an orphanage, among other work with the nonprofit Humanitarian Foundation of Doctor Dufreny.
Just before Haiti, Joseph interned in human resources at Steve Madden Ltd.; when officials there heard about her project, the company donated and shipped shoes, book bags and other items to the orphanage, among other support.
The internship helped Joseph sharpen her long-term goal – law school and then working with fashion corporations to develop their social responsibility – but she knows other options may emerge.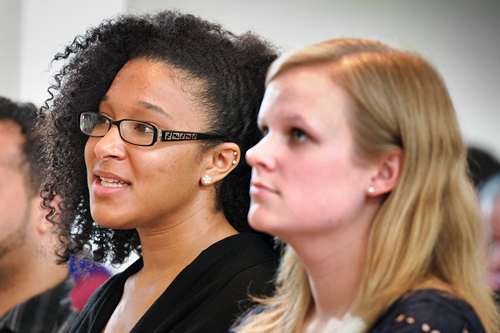 Denise Ghartey '12, left, was awarded the Bristol Fellowship at Class and Charter Day in May, 2012.
A graduate's progress: a fellowship, research abroad
Denise Ghartey '12, an Africana studies major, received one of Hamilton College's highest honors – a Bristol Fellowship. That meant after graduation she could travel abroad to research a project she devised: "Nowhere and Everywhere: A Cross Cultural Exploration of How Multicultural Young People Explore Their Identities."
More >>
"I was studying multicultural identity formation and traveling to many countries that have, and are still, either thriving and/or struggling with, learning how to incorporate new cultures and people into their society, as well as children who identify with many different cultures simultaneously," says Ghartey, who finished the fellowship and works as a paralegal. She plans to go to law school and may someday pursue a doctorate in philosophy.
Ghartey co-founded and co-directed the College Young People's Project at Hamilton, a math literacy effort that aims to develop young leaders. She was a Kirkland College Scholar, and received a Diversity and Social Justice Project Summer Fellowship and the Harris Prize Scholarship in Philosophy, among other honors and accomplishments.
"In Africana studies, we learned how to have open and honest discussions and how to express abstract thoughts and feelings. This has been invaluable in discovering my own passions personally and professionally," she says.