Introduction
The goal is to learn something about past ice sheet elevations by finding evidence of past ice sheet margins, and dating it. In order to do this, we need two things -- first, some deposit that marks where the ice was in the past, and, second, some way of determining its age. The best evidence of an ice sheet that was higher in the past is the presence of erratic cobbles or boulders -- 'erratic' meaning that the rock type isn't local and hence must have arrived via ice. Here's an example from Marie Byrd Land: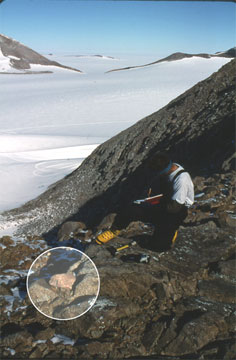 It's a granite cobble on a non-granite nunatak, so we know it's from away, as they say in Minnesota. We can measure the exposure age of this cobble, which tells us the time since it was first exposed by melting out of the ice margin, that is, the time since the ice surface was at this elevation. Exposure-age dating is generally the most effective way to do this sort of thing, but occasionally one can use other means. For example, one often finds melt pools at the ice margin in which algae grow in the summer -- if you find a fossilized one of these associated with an past, higher, ice margin, you can radiocarbon-date the algae.
The important thing for the present proposal is that, if we're to have a reasonable chance of doing this in the Peninsula region, we need to find areas where a respectable amount of rock is exposed next to the ice whose elevation is of interest, in this case the main glaciers that flow into the Larsen ice shelves, where we could find ice-marginal deposits of some sort. This means that the rock areas must not be too steep (so that the deposits of interest don't just fall off) and must be relatively snow-free (so we can actually find the deposits).
It turns out that there's a surprising amount of promising-looking rock outcrop in the Larsen B embayment. In fact, I think there's a really good chance of being able to find a good record of ice surface retreat here. However, this area is a bit unique in this regard -- areas on the W side of the Peninsula, and farther south in the Larsen C area, are less promising. Photos of promising and unpromising areas follow.