This document describes how to move your HillConnect mail into another account. Detailed instructions are provided for moving it into a commercial Gmail account.
Moving your Hamilton mail to a Commercial Gmail Account
These instructions assume you have already established an account with Google (gmail.com).
In your HillConnect account, click on the gear icon in the upper right corner of your screen next to your e-mail address. From the menu that appears, select Mail Settings.
In the Settings screen, click on the link labeled Forwarding and POP/IMAP.
Even though your settings may already indicate that "POP is enabled for all mail….", go ahead and click in the dot next to "Enable POP for all mail (even mail that's already been downloaded". Then click on the Save Changes button at the bottom of the Settings page.
Log in to your commercial Gmail account (http://gmail.google.com). NOTE: If you have not previously configured your Hamilton account to allow multiple account logins, you will have to log out of your Hamilton account before logging in to your commercial (.com) Gmail account.
Once you are in your commercial account, click on the gear icon and select Mail Settings.
Click on the link labeled Accounts and Import and then click on the link on that page labeled Import mail and contacts (see below).

Enter your HillConnect account address (e.g. dquayle@hamilton.edu) and click on Continue.
Enter your HillConnect password and click on Continue.
In the next screen enter your password again as prompted.
For the next 6 steps, please refer to the image below: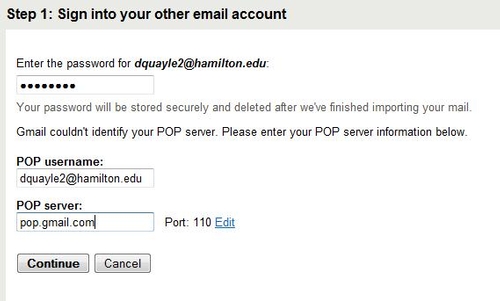 Change the POP user name to include @hamilton.edu (e.g. dquayle2@hamilton.edu)
Change the SMTP server to pop.gmail.com
Click on the link to the right of "Port: 110" labeled Edit
Click in the box to select "Use SSL"
Change the port to 995
Click on Continue
In the next screen select the following check boxes:
Import Mail
Optional: Select to "Leave a copy of retrieved messages on the server". NOTE: In some cases, checking this option will prevent the transfer from beginning. If that occurs, uncheck it and try again.
Add a label to all imported mail [dquayle2@hamilton.edu] This will allow you to easily identify the mail that was imported from your Hamilton account.
18. Click on Start Import.
19. You should see a confirmation page that informs you the import has begun. Click on OK.
NOTE: The transfer of your mail can take DAYS. Google gives it a very low priority but it does take place. You can check on the progress by doing a search in your Gmail.com account for all mail labeled userID@hamilton.edu (substitute your real user ID where "userID" appears"). If the number of messages found with that label in your Gmail.com account matches the number of messages in your "all mail" label (folder) in your HillConnect account, then it is done!!
When the transfer has finished you should do the following:
Log in to your Hamilton HillConnect account and set it up to forward your mail to your Gmail.com account. You can do this by going to the gear icon and again select Mail Settings. Click on Forwarding & POP/IMAP, fill in the address for your Gmail.com account and click Save Changes.
Next, log in to your Gmail.com account. Click on the gear icon, select Mail Settings and then select Accounts and Import.
In the middle of the section, where it is labeled Check mail using POP3, you'll see a link labeled "delete" to the far right. Click on the "delete" link. Doing so will break the tie between your two accounts. From here on, new mail addressed to your Hamilton account will automatically arrive in your gmail.com account.