Kirkland Matters - 2009
Gallery Talk with Gina Werfel K'73
Hamilton and Kirkland alumni and friends enjoyed an evening of art at the Prince Street Gallery in NYC on Thursday, November 19. The highlight of the evening featured a gallery talk in which the artist described the evolution of her work from primarily representational paintings inspired by her former surroundings in various east coast locales to the structured abstractions of her new paintings. Kirkland alumna Gina Werfel K'73 is a professor of art at the University of California, Davis. She majored in art at Kirkland College and then earned an MFA from Columbia University. Her work has also been exhibited at the numerous galleries around the country.

Show of Isabel Weinger Nielsen Work at Blinking Light Gallery

Isabel Weinger Nielsen K'76 work was shown November 5 – 29, 2009, at the Blinking Light Gallery in Plainfield, Vermont. The title is Isabel's Eyes: From Down the Road and Beyond and features photographs.



Caroline Webber K'73 Researches Nutrition and Poverty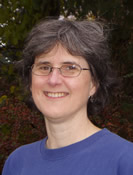 Caroline Webber K'73, assistant professor of nutrition and dietetics, Western Michigan Univeristy, presented a paper at the Society for Nutrition Education Annual Conference. Webber's study examined a rise in gasoline price and its affect on the food buying habits of low-income, ethnically-diverse families. After graduating from Kirkland College, Webber continued her education at the University of California, Berkeley where she earned a bachelor's of science and then an MPH at the University of Minnesota. She acquired her Ph.D. at Cornell University. More ...
Liz Marran K'77 Awarded Tenure at UMass
Liz Marran K'77 was awarded tenure at the University of Massachusetts where she is an Associate Professor of Art. After grauating from Kirkland College, She received an MFA in painting from the Cranbrook Academy of Art. Marran is a member of the Committee for Kirkland College. More...


Rachel Dickinson K'78 Publishes Falconer on the Edge

Rachel Dickinson K'78 has written numerous articles about travel, nature, and science for publications like The Atlantic, Smithsonian, Audubon, and PerceptiveTravel.com. Her latest book is the narrative nonfiction work Falconer on the Edge: A Man, His Birds, and the Vanishing Landscape of the American West (Houghton Mifflin Harcourt, 2009). In it she follows a hardcore falconer through a hunting season in Wyoming and discovers a region being forever changed by the effects of natural gas exploration and drilling. More...


Update from Libby Denham Robbins K '77
I received my Ph.D. in clinical social work from The Clinical Social Work Institute in Washington, D.C. this summer. I'm happy to be working as a psychotherapist specializing in play therapy with young children as part of a multidisciplinary practice in Fairfax, VA. My husband, Peter Robbins H '78 is the medical director, so he is technically my boss, but he is too smart to play that card. Perhaps that is part of the reason we've stayed married for 28 years. Both of my children attended Hamilton - my daughter, Aliya, graduated in 2008; and my son, Zakai, will graduate this May. Peter and I have been able to visit campus often, and never tire of how beautiful it remains through the years. I have also been heartened by the surviving legacy of Kirkland, both in the curriculum at Hamilton and in the strong, brilliant, and talented women attending Hamilton today.

Alumni Review: Working for a Greener Future
Rachel Dickinson K'78 wrote a feature article in the Spring Hamilton Alumni Review titled, "Across generations and professions, graduates work for a greener future." Rachel is the author of "Falconer on the Edge: A Man, his Birds and the Vanishing Landscape of the American West."


Alumna Author: Michelle Facos K'76 Publishes Symbolist Art in Context
The Symbolist art movement of the late nineteenth century forms an important bridge between Impressionism and Modernism. But because Symbolism, more than the two movements it links, emphasizes ideas over objects and events, it has suffered from vague and conflicting definitions. In Symbolist Art in Context, Michelle Facos offers a clearly written, comprehensive, and accessible description of this challenging subject. Reaching back into Romanticism for Symbolism's origins, Facos argues that Symbolism enabled artists (including Munch and Gauguin) to confront an increasingly uncertain and complex world—one to which pessimists responded with themes of decadence and degeneration and optimists with idealism and reform.

Amy Hatkoff K'78 Publishes Book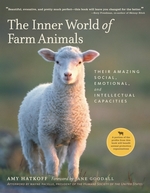 Author Amy Hatkoff K'78 has published a new book titled The Inner Life of Farm Animals: Their Amazing Intellectual, Emotional, and Social Capacities (Stewart, Tabori & Chang, 176 pp). With a foreword by Jane Goodall and an afterword by Wayne Pacelle, president of the Humane Society of the United States, the book combines the latest research on the emotional and intellectual capacities of farm animals with touching stories to bring their inner world to life. More...

Elaine Weiss K'73 Explores Story of WW I Farmerettes in New Book
Elaine F. Weiss K'73 is the author of a new book which explores the story of the "farmerettes" -- the women who made up the Woman's Land Army of America and did men's work in uniform on the rural home front during World War I. Fruits of Victory: The Woman's Land Army of America in the Great War is published by Potomac Books, Inc. More...


Jennifer Morris K'72 Honored at UN with Hamilton Ventures Leadership Award
Jennifer Morris K'72, the founder of LocalWatt and an experienced entrepreneur and organization leader, will be recognized with a Hamilton Ventures Leadership Award at the United Nations on February 7, 2009. The award ceremony will take place during the first Venture Symposium and Conference. More ...


Barbara Stein K'72 Receives Lifetime Achievement Award
Barbara Stein, K'72, received a Frank Withrow Lifetime Achievement Award from the National Coalition for Technology in Education and Training (NCTET) at NCTET's 2009 Bytes & Books Inaugural Ball on January 20, 2009 at the Folger Shakespeare Library in Washington, D.C. The award was in honor of Barbara's exemplary effort in advancing education and technology for almost 30 years. More ...