News From the Library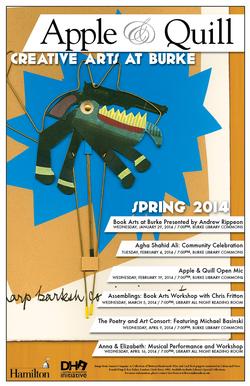 Apple & Quill: Spring 2014 Schedule
By Lisa Forrest
January 29, 2014
Apple & Quill, the library's creative arts series, announces a second semester of programming. The spring 2014 semester is focused on the topic of Book Arts-- and includes special exhibits, speakers, and workshops. This semester, we'll also be hosting a special birthday celebration for the poet Agha Shahid Ali. Check out the full schedule below. Questions? Please contact Lisa Forrest, Director of Research & Instruction Services, at lforrest@hamilton.edu.
Apple & Quill: Creative Arts at Burke
Spring 2014 Schedule
Wednesday, January 29, 2014 / 7:00-8:00 p.m., Burke Library Commons
Book Arts at Burke Presented by Andrew Rippeon:
Andrew Rippeon will discuss his work in Burke's special collections, assembling an exhibition on twentieth century book arts. Like his exhibition, Rippeon's talk will focus upon three related but distinct aspects of Burke's book arts holdings, reflecting the strengths of the collection. Rippeon will provide an introduction to the academic aspect of the collection, which includes instructional, technical, and historical volumes about bookmaking. Drawing from these volumes, he will then lead a discussion of some of the more eccentric pieces in in the collection, which push the notion of "the book" to its formal and conceptual limit, and will also discuss some examples from the collection of poetry as presented in a book arts context.
Former editor of the poetics journal P-Queue, and founder of the book series QUEUE, Dr. Andrew Rippeon is a poet, letterpress printer, and independent scholar researching twentieth and twenty-first century poetry and poetics.
***
Tuesday, February 4, 2014 / 7:00 – 9:00 p.m., Burke Library Commons
Agha Shahid Ali: Community Celebration:
The first in a series of events celebrating the work and life of acclaimed poet Agha Shahid Ali (1949-2001). On the occasion of Shahid's 65th birthday, join us for a community poetry reading, music, and birthday refreshments. Sponsored by Apple & Quill: Creative Arts at Burke with support from DHi.
***
Wednesday, February 19, 2014 / 7:00 – 8:00 p.m., Burke Library Commons
Apple & Quill Open Mic:
Share your creative writing with the group, or just come and listen. All are welcome!
***
Wednesday, March 5, 2014 / 7:00 – 9:00 p.m. Library All Night Reading Room
Assemblings: Book Arts Workshop with Chris Fritton
From Duchamp's earliest "Boxes" to the FLUXUS Kits of the 1960's and beyond, the "assembling" holds a unique place in the history of art. An amalgamation of unique artworks presented as a single object, an assembling is more than a collection; it's a family of objects from one or more artists that exemplifies the notion of a whole being more than the sum of its parts. A history of assemblings will be presented, with photo accompaniment, and actual examples will be provided for perusal.
Participants will be invited to ask questions, look through examples of assemblings, and finally, create their own using the random assortment of objects Fritton brings along.
Registration is recommended. Contact Lisa Forrest at lforrest@hamilton.edu for more information.
Chris Fritton is the Studio Director at the Western New York Book Arts Center. He holds a BA in Philosophy (1998), a BA in Poetics (2000), and a BA in Art History (2010) from SUNY at Buffalo, as well as an MA in Poetics from the University of Maine at Orono (2005). A poet, printer, and fine artist, Fritton has decades of experience writing and making his own books, in addition to collaborative efforts with other writers and artists. He currently oversees the studio space at WNYBAC, works as an in-house printer/designer for Mohawk Press, and teaches letterpress and printmaking.
***
Wednesday, April 9, 2014 / 7:00-8:30 p.m., Burke Library Commons
The Poetry and Art Consort featuring Michael Basinski
Apple & Quill, with support from Hamilton's Digital Humanities Initiative (DHi), announces "The Poetry and Art Consort" presented by renowned poet and curator of the University at Buffalo's poetry collection, Michael Basinski.
Periodically over the last century the realm of the poem frequently mashed with other forms of art and this conjoining continues now in this century. From this infringement upon music and other art forms, poetry reinvents the form of itself. The space within poetry for this emergent type of poem has been evolving and developing. This type of poetry is neither an anomaly nor a phenomenon. It has claimed a substantial consideration in the present world of the poem. Allow this presentation to address this development by addressing contemporary publishing and printing techniques and trends in poetry, the technological evolution that assisted and assists this poetry, and the poetics of verbo/visual, concrete poetry, or visual poetry in 2014.
Michael Basinski is the Curator of the Poetry Collection of the University Libraries, University at Buffalo. He performs his work as a solo poet and in ensemble with BuffFluxus. Among his recent books of poetry are Piglittuce (Propolis Press - 2013), Learning Poem About Learning About Being A Poet (Press Board Press - 2012) and Trailers (BlazeVox - 2011). His poems and other works have appeared in many magazines including Dandelion, BoxKite, Antennae, Open Letter, Deluxe Rubber Chicken, First Offense, Terrible Work, Kenning, Lungfull, Tinfish, Score, Unarmed, Rampike, House Organ, Ferrum Wheel, End Note, Ur Vox, Damn the Caesars, Pilot, 1913, Filling Station, fhole, Public Illumination, Eccolinguist, Western Humanities Review, Big Bridge, Mimeo Mimeo, Nerve Lantern, Vanitas, Talisman, Yellow Field, Staging Ground, and Poetry. Recent visual opems (yes, opems) located in: www.wordforword.info
A limited number of open mic slots will be available following Basinski's presentation and reading.

***
April 16, 2014 / 7:00- 9:00 p.m., Library All Night Reading Room/Burke Library Commons
Anna & Elizabeth: Musical Performance and Workshop
Apple & Quill, in collaboration with Hamilton's Music Department and Digital Humanities (DHi), present a special performance and workshop by Anna Roberts-Gevalt and Elizabeth LaPrelle. Join us for banjo tunes, ballads, and learn how to create your very own "crankie" (a scrolling illustration which depicts oral history).