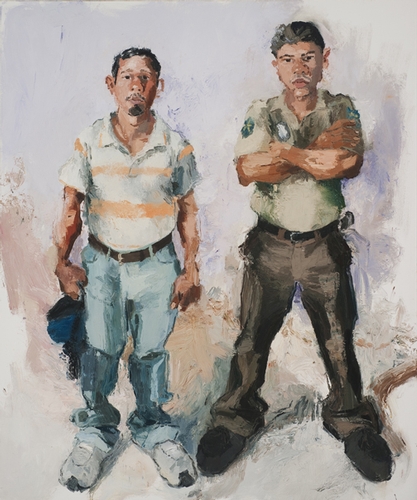 John Sonsini
Francisco & Maynor, 2010
oil on canvas
72 x 60 inches
Courtesy of the artist and ACME., Los Angeles.

John Sonsini's paintings of men are filled with an energy and tension that shifts each seemingly straightforward portrait to a thing that tells us much more than the story of one man or of one painter. Many of Sonsini's subjects are latino day laborers living in Los Angeles and almost always they look directly at us from inside the picture, confronting us with careful and steady gazes. The mixture of who these men are and how Sonsini paints them makes for a seductive and powerful combination. Born in Rome, NY, the artist currently resides in Los Angeles and this is his first solo exhibition in the region.