Update Fall 2011
Dear Classmates and fellow Kirkland Alumnae,
It was pretty gratifying to see green hardhats standing out among the Trustees and Alumni Council members processing in academic robes at the Bicentennial Convocation on Sept. 24th. One of the goals of the Committee for Kirkland College is to enhance our visibility and legacy on the Hamilton campus, and it certainly looks like we're succeeding.
Over four thousand alumni and parents attended Bicentennial Weekend events, a record turnout. Diverse Kirkland personalities were also in evidence, thanks to posters hanging in the first floor foyer of List Arts Center all weekend. Over fifty of you contributed short bios to start the "The Kirkland Pioneers Project," and we plan to create hundreds more.

Professors Bruce Muirhead and Bill Salzillo offered a three-hour printmaking workshop that was a real highlight of my day. They also curated an exhibition of student works in List, covering their thirty-plus years of teaching.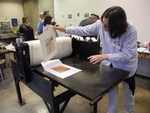 Listening to "Special K," the contemporary women's accapella group, perform with Kirkland founders Kendra Anderson K'80 and Laura Hausman-Kadane K'79 at the show's reception was a major treat. It was a delight to see Barbara Stein '72 (a member of the Kirkland Endowment Advisory Committee) and Carolyn Pasley '72 there as well. Later in the day many of us, including Woody Root '72 and Cathy Fahey '78 among others, shared dinner in the new Sadove Student Center. You can see more photos at http://www.facebook.com/KCalums and http://www.hamilton.edu/200/bicentennial-kickoff-celebration.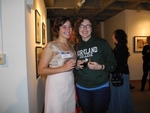 This was also a Parent's Weekend, with several Kirkland/Hamilton moms in attendance. A big shout-out is due to those who worked tirelessly to coordinate weekend plans, including artist Amy Buchholz '80, Sharon Rippey in the Alumni Office, and our supportive student intern Libby Chamberlin H'14 whose mom (my classmate Kate Emlen '72) should be very proud!
Another goal for the year is to generate and support more regional alumnae gatherings. Professor Maurice Isserman's book, On The Hill: A Bicentennial History of Hamilton College devotes a whole chapter to Kirkland, and he will be giving readings around the country. See other upcoming events.
I have to close by noting a couple of sad losses. Lauren Enos, a '72 classmate, passed away this fall after battling cancer. Nancy Kaufmann Dalva shared a moving remembrance, saying "she died with a physical and mental courage I could never muster." Read Lauren's obituary here. Patricia Tolles (Trix ) Smalley, daughter of Dean Winton Tolles, passed away at age 71 in Larchmont, NY. She became a life trustee at Hamilton and an advocate of Kirkland's legacy, as well as a friend to many alumnae and Clinton residents.
You'll be hearing soon about organizing spring Reunions - Hold the date: May 31-June 3, 2012.
I hope all is well with you and your families, and that we'll see you at an event in the future.
Best wishes,
Jennie Morris '72