As we are all aware, technology changes at a rapid rate. This newsletter highlights some upcoming changes to our internet connection and e-mail accounts as well as the impact of the recent printing changes. As the College continues to explore what it may look like twenty years from now, it seems impossible to imagine what technology use will look like, but Dave Smallen has attempted to do just that in his article Looking Ahead to 2032.

ITS is pleased to announce a significant upgrade to the campus internet connection. The campus internet connection is used for all network traffic destined for off campus network resources. This latest increase represents a commitment by Hamilton to keep pace with the increased demands in internet bandwidth usage by students and employees. The current internet connection speed is 125Mbps (mega bits per second). After the upgrade, the connection will more than double to 300Mbps. The upgrade is planned to be completed by the end of spring break. A message will be sent to the campus community when the upgrade is complete.

Recently, Google announced that they are upgrading Google Apps for Education customer accounts to more closely resemble consumer accounts. What does this mean for you?

On Tuesday, February 22, all Hamilton accounts will be upgraded.

There will be no downtime for your account. You will have full access to your account as you normally do. The upgrade process will begin at 9:00 a.m. and can take up to 24 hours to complete. In the short-term you will not see any major changes. The upgrade is changing the way the system works behind the scenes and will make it possible for us to explore adding functionality in the future.
After the upgrade:

If you currently login to your HillConnect account via the web interface, and login to your own personal Google consumer account in the same browser, in the same session, you'll need to enable a multi-user login setting. Instructions: http://www.google.com/support/accounts/bin/answer.py?hl=en&answer=181599
Action is required on your part. After the upgrade, everyone (including Thunderbird users) needs to visit http://hillconnect.hamilton.edu and agree to new terms of service.
You will receive another e-mail with more details if your Hamilton e-mail address is associated with an existing personal consumer Google account.
In addition to using to http://hillconnect.hamilton.edu to access your account, you'll also be able to login with your Hamilton e-mail address at http://gmail.com and http://www.google.com. Thunderbird users will continue to access their accounts in exactly the same way.

Please contact the ITS Help Desk at x4181 if you need assistance at any time during the transition.
---
The data on student printing for fall 2010 is in and it indicates student efforts are having a substantial positive impact on the environment. Slightly over 1 million pages were printed by students, a reduction of 23% over similar data collected in 2005. Allowing for the growth of printing in the last five years the actual reduction was probably more than 33%. That translates into 200+ trees not cut down, 800+ kg of carbon dioxide not released into the environment, or 50,000+ hours of running a 60 watt incandescent bulb. In dollar terms, this is a direct saving of over $9,000/semester.
Remember that student quotas were set at the 90th percentile based on data from spring 2010 and comparable policies from our peer institutions. In fact, only 12% of seniors, 7% of juniors, 9% of sophomores, and 5% of first-years went over their quota. If students had actually been purchasing top-up cards in the fall the typical amount over the quota that students would have had to pay was less than $10 (less than the cost of a large pizza or 2 small smoothies).
Students who have special needs (e.g., learning disabilities) had adjustments made to their quotas, if necessary. ITS works with Allen Harrison, Associate Dean for Diversity and Accessibility, to confirm such requests. Additionally, students whose campus jobs require printing have had adjustments made to their quotas or special accounts have been set up by the office for which they work. Student organization quotas are set in consultation with David Eng.
Some students have been concerned that they are taking courses in which many readings are provided electronically and need to be printed out. What we have found is that this tends to average out over the four courses a particular student takes during a semester. Moreover, the same variability is more dramatic in the cost of textbooks. Science and math textbooks, for example, tend to cost substantially more than those in the humanities and social sciences. Unlike textbooks the cost of printing is being subsidized through the quota system. As was mentioned above, a small percentage of students will ever go over their quota and the amount of that overage will be minimal.
As more students purchase e-readers such as the iPad, Kindle or Nook we are sure to find that students print less of the articles currently in e-reserves. That too will help save trees.
Most importantly, by being thoughtful about what and how we print can all do our part of help our environment.
Please remember to logoff computers in classrooms and any other public spaces. Leaving a computer logged into your account in a public space could have some serious consequences. It's OK to leave the computer on for the next user, but letting them have access to your server space is never a good idea. Always take the extra time and confirm you have logged off the computer.
Also please remember to shut down the podium systems and projectors when departing the classrooms. The touch screen requires two commands for proper shut down. When you press the "Shutdown System" button on the touch screen, it will then display "Continue Shutdown." You need to confirm your request to shut down by pressing the "Continue Shutdown" button, and then you should hear the projector "BEEP" and turn off. The touch screen will now display the message "System shutting down, system cannot be powered on for two minutes to allow the projector to cool." Please do not walk away from the podium until this message is displayed. Please note that shutting down the system does not log you out of the computer.
There was some confusion about one piece of equipment listed in last month's newsletter. Where I talked about "other formats that will require special request," I listed "Multi Standard VHS player." This deck plays SECAM & PAL video tapes from outside the United States. Just as DVDs have regional codes (see below) VHS tapes from Europe or Asia require a special VHS deck to play them. ITS has one working multi-standard VCR, and they are no longer being manufactured. If you need to play a PAL or SECAM video tape in your class, we will install the deck for the day. All of our Technology Enhanced Classrooms are capable of playing standard VHS tapes and there are no plans to remove the VCRs at this time.
If you need to play DVDs from other regions, you need to request a room with a "Code Free DVD player." The Media Library has many foreign DVDs and many will have a note posted on the DVD case explaining it will require a Code Free deck to play. When faculty and students go abroad they often return with movies and find that they will not play in their U.S. (Region 1) DVD player. The code symbol is usually posted on the rear cover of the case along the bottom edge where the aspect ratio and audio track codes are displayed.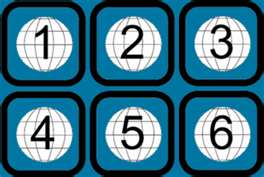 | | |
| --- | --- |
| 0 | Informal term meaning "playable in all regions" |
| 1 | Bermuda, Canada, United States and U.S. territories |
| 2 | The Middle East, Western Europe, Central Europe, Egypt, French overseas territories, Greenland, Japan, Lesotho, South Africa and Swaziland |
| 3 | Southeast Asia, Hong Kong, Macau, South Korea and Taiwan |
| 4 | Australasia, Central America, the Caribbean, Mexico, Oceania, South America |
| 5 | The rest of Africa, Former Soviet Union, the Indian subcontinent, Mongolia, North Korea |
| 6 | Mainland China |
| 7 | Reserved for future use (found in use on protected screener copies of MPAA-related DVDs, and "media-copies" of pre-releases in Asia) |
| 8 | International venues such as aircraft, cruise ships, etc. |
| 9 | Reserved for future-use; currently used for region-free |
At the December meeting of the Board of Trustees and at the January 14 meeting on campus, I suggested what our use of technology might look like twenty years after our bicentennial. I didn't attempt to predict what technologies would exist at that time (most haven't been invented yet) but rather which ones that currently exist will be pervasive and offer the greatest possibility of change in the way Hamilton operates. There are five interlocking adjectives that describe how we will use technology in 2032: digital, highly mobile, virtual, accessible and collaborative. Looking into my crystal ball here is what I see in 2032:
The whole publishing/print world has changed in dramatic ways as everything is made available in digital form. Long, well written-researched manuscripts will continue to be important, but e-reader technologies have improved to the point that electronic versions of these monographs (and everything else) are acceptable for reading. Costs have dropped and print textbooks have disappeared (along with the term e-book).
Technology devices are highly mobile and almost all of our services are capable of being delivered through these mobile devices. Everyone carries these devices with them all the time, including to class – and they are integrated into the learning process. We continue to struggle with the challenge of determining what must be done face-to-face and what can be done otherwise. The combination of digital content and highly mobile devices make recalling facts passé.
Highly-convenient virtual services provide cost-effective alternatives to the highly staff-driven services we used to provide and over time most are replaced. We obtain these services from providers on the Internet (the "cloud") as we did for e-mail and calendaring in 2010.
The combination of the first three changes shifts Hamilton's institutional focus from ownership of resources to access to resources. We partner with other NESCAC institutions, and research universities, to create virtual academic departments and library/IT support services, permitting students the maximum choice without each institution having to do everything themselves. Cross-institutional, degree opportunities are available for students and are as common as double-majors were in 2010.
We have learned to use social networking technologies to collaborate effectively and build relationships - irrespective of location. We continue to struggle with determining the boundaries of what it means to provide a personal education. Technologies provide alternative ways to provide effective learning to larger numbers of students in some subjects. The model of effective learning requiring a small number of students and faculty to be in the same place at the same time is only one alternative -even at selective liberal arts institutions. All Hamilton students spend their junior year doing a career-related internship off-campus, earning money, reducing their tuition cost, but remaining connected to the campus. This reduces the cost to students and families, increases their experiential learning, and maintains the core of the relationships that have been central to the Hamilton experience.
How confident am I that these things could happen? Quite! What might be the impact on the way Hamilton operates? Substantial!
Whether creating a page for your administrative office, academic department, student organization, or your own professional page, SiteManager, Hamilton's own web editing tool, can be used to create your web presence. Check out the upcoming SiteManager class and working session schedule.
---