Changing Your HillConnect Password to Match Your ESS/SSS Password
---
Help Desk & Training Services
Hours:
M-F 8:30 a.m. - 4:30 p.m.
Sa-Su 10 a.m. - 10 p.m.
IMPORTANT NOTE: This document only applies to existing Hamilton accounts that have not yet been transitioned to the new Hamilton Password Manager. Once you have been transitioned, you can change your password by going to the Hamilton Password Manager. Additional information about the Hamilton Password Manager is available.
If you remember your My Hamilton password but you have forgotten your e-mail password, these instructions will help you synchronize your passwords so that both accounts will use the password you use for My Hamilton. If you want to change ONLY your ESS/SSS password, please contact the ITS Help Desk at 315-859-4181. If you remember your HillConnect (e-mail) password and your intention is to make your ESS/SSS password match your e-mail password, please visit the password change form and follow the directions there.
To make your E-mail password the same as your current ESS/SSS password:
Log in to MY.HAMILTON.EDU
Start by going to http://my.hamilton.edu. Use your e-mail ID as your Username (do NOT include @hamilton.edu). Then enter your e-mail password and click on Submit.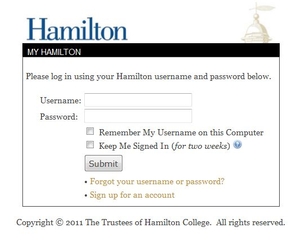 After logging in, click on the Setup tab.

Click on Passwords and Security.

Enter your e-mail ID and password. This provides extra security in case you've accidentally left yourself logged in on a public computer. Click on Submit.

Click on the Synchronize Passwords form link found under the heading Synchronize Passwords.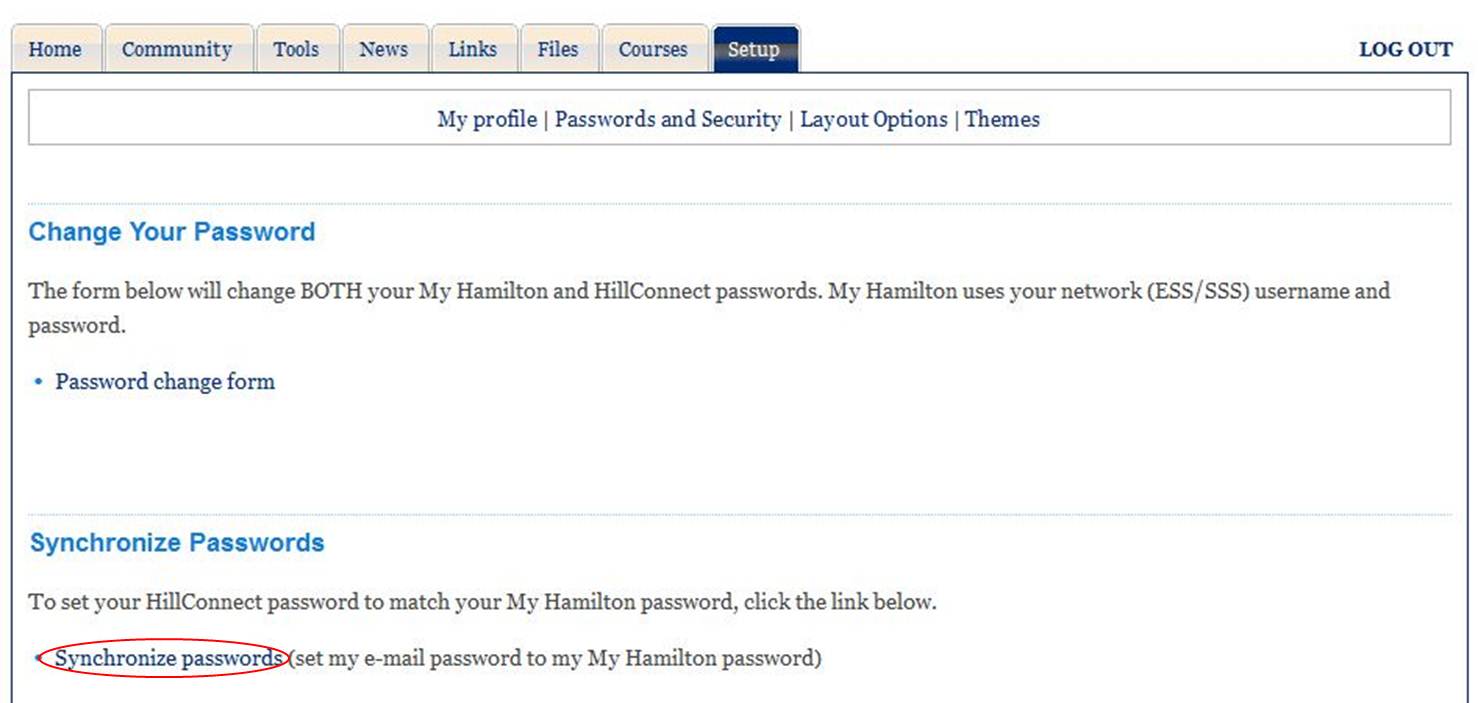 This will automatically begin the synchronization process and change your HillConnect password to match your MyHamilton password. Once done, please try logging onto HillConnect with your MyHamilton password.