Installing Sophos Anti-Virus on Windows for Employees Only
---
Help Desk & Training Services
Hours:
M-F 8:30 a.m. - 4:30 p.m.
Sa-Su Closed
For Off-Campus Use
NOTE: If you are using wireless as your connection to install Sophos the installation will fail. Please connect your computer to a wired connection to install Sophos.
NOTE: If you have other anti-virus software installed on your computer or an older version of Sophos, you must uninstall it before proceeding with these instructions. Depending on your operating system:
Windows XP: Go to the Control Panel and select Add or Remove programs, locate your anti-virus software in the list and click on the Change/Remove button.
Windows Vista/7: Go to Control Panel and select Programs, locate your anti-virus software in the list and click on the Uninstall button.
Windows 8: Press the Windows logo key‌ on your keyboard plus the letter I. Choose Control Panel from the menu that appears. Select Uninstall a program found underneath Programs.
Downloading Sophos
Connect to the Internet using your ISP (Internet Service Provider) and then launch a browser (Firefox, Google Chrome, Internet Explorer). Go to the Sophos Installer.


Click on the download link for your respective Operating System (Windows).
A window will appear, similar to the image below. Select Save File and then press OK.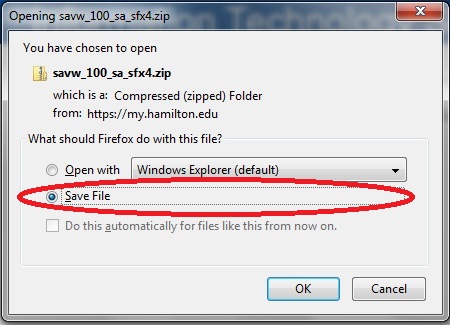 The file should start downloading. It will take a while for the zip file to download.
After downloading the zip file,

open file location

. You can do this by right-clicking on the file after it downloads and select Open Containing Folder.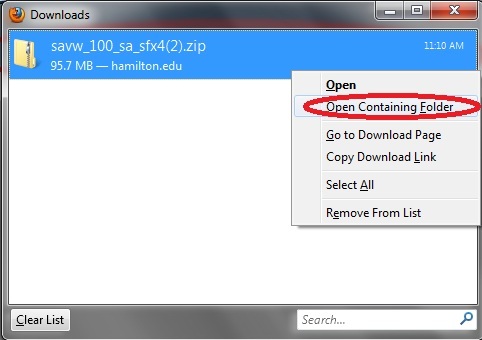 Rename and extract the file to a location that you will remember.

Go to the extracted file location and select said file and install the Sophos software.
Installing Sophos
To install Sophos on your computer see the steps for the operating system you are running.

Windows XP - double click on savw_100_sa_sfx.exe then click Run.
Windows Vista/7 – Right click on savw_100_sa_sfx.exe and Run as Administrator.

When the installation wizard appears, click Install.
Click Next.
Agree to the License agreement and click Next.
Click Next to create the folder.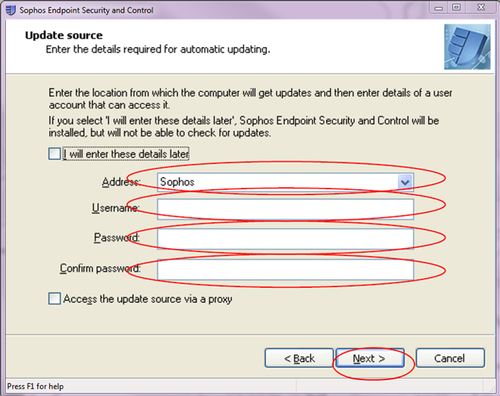 To configure Sophos automatic updating please type in the following:

In the Address type in http://sophosupdate.hamilton.edu/cids/s000/savscfxp (do not copy and paste)
(please note that the portion of the address following cids is s, zero, zero, zero)
In Username type in hamilton-d\username. Your username is your network ID name.
In Password type in your hamilton network password.
Confirm password type in your hamilton network password.
Click Next.

Uncheck the box next to Remove third-party security software and click Next.
Click Next.
Click Next.
Click Finish to complete the installation.
Last updated: May 26, 2017