Setting Up a Passcode for an iPad
---
Help Desk & Training Services
Hours:
M-F 8:30 a.m. - 10 p.m.
Sat. - Sun. 10 a.m. - 10 p.m.
1. From the Home Screen, select Settings. Then, select General. Now open Passcode Lock in the center box of options.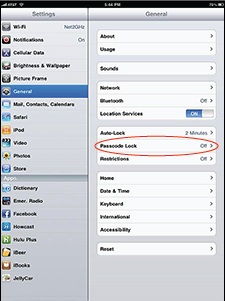 2. Select Turn Passcode On to display the settings for creating a passcode. Notice the several options beneath the first option are grayed-out. This indicates you can only adjust them after creating the passcode.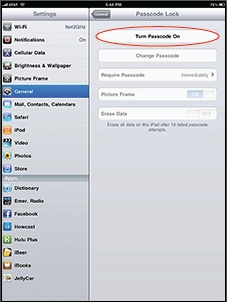 3. Create a four-digit passcode. Make sure that you won't easily forget it, but also make sure that it is hard for others to figure out.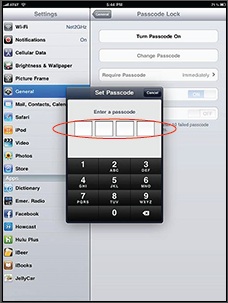 4. Re-enter the passcode. Be careful not to make any mistakes. This is just to make sure that you are sure of your own passcode.
5. Once the passcode has been entered, it is now in effect. Below are some options that you may now be able to customize:
Turn Passcode Off: Removes the passcode. Must enter the passcode first in able to enable this option.
Change Passcode: First, you must enter your current passcode, then you can change it to the desired new passcode.
Require Passcode: You can adjust how long your iPad must remain unlocked before requiring to enter the passcode again.
Picture Frame: Selecting On will activate the iPad's virtual picture frame.
Erase Data: Selecting On will erase all data stored on your iPad after ten unsuccessful passcode entries.
Last updated: June 3, 2016