SUM Artists
Visual Diagrams and Systems-Based Explorations
February 15 — June 14, 2020
Curator(s)
Matthew Deleget and Rossana Martinez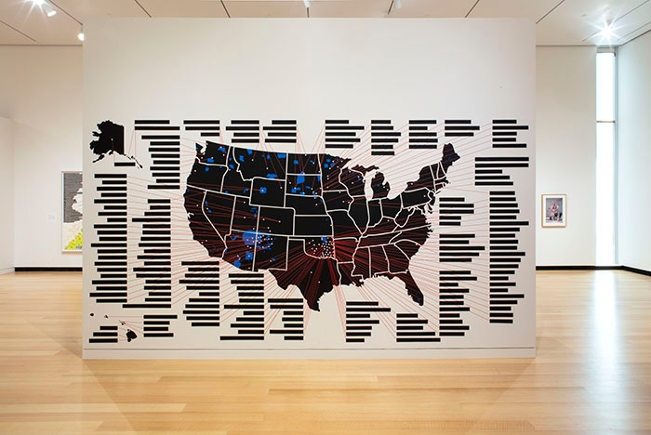 Overview
The exhibition SUM Artists: Visual Diagrams & Systems-Based Explorations presents several generations of artists who investigate and visualize the intersection of divergent subjects of pressing concern—the arts, culture, history, race, gender, politics, economics, sciences, humanities, transportation, and the quotidian, among others—primarily through the creation of visionary, often fantastical, charts, maps, diagrams, and lists. Featuring recent and historical artworks by thirty individual artists and collectives working across a broad array of different media including painting, drawing, printmaking, sculpture, installation, and artist books, the exhibition will also present a selection of rare, precedent books, a hand-tinted print, and a poster, on loan from the Hamilton College Library Special Collections, dating from the late seventeenth to the mid-twentieth centuries. Although the content of the work in the show has the appearance of empiricism and "truthiness," it abounds in idiosyncrasies that point to the subjectivity of the makers and what they choose to focus on in their analysis of information through their practice.
Highlights in the exhibition include Mary Beth Edelson's now legendary hand-colored lithograph Some Living American Women / Last Supper (1972), in which the artist collaged the faces of preeminent yet underrecognized female artists atop those of Jesus Christ and his apostles in Leonardo da Vinci's iconic painting The Last Supper, thereby creating her own artistic pantheon; David Diao's Barnett Newman, The Paintings in Scale (1991), a painted inventory of the renowned Abstract Expressionist artist's relatively modest output during his now celebrated career, charted according to the format, dimensions, and year the paintings were produced; and RYAN! Elizabeth Feddersen's wall installation Kill the Indian, Save the Man (2017–present), which exhaustively maps the nineteenth- and twentieth-century Indian boarding schools that were established in the U.S. to assimilate Native American children, with devastating, indelible cultural repercussions.
In today's supercharged political climate, additional works of particular currency include Dread Scott's silkscreened diptych #WhileBlack (2018)—which features portions of two unending lists of social-media hashtags, one describing the hazards posed by racial discrimination (#DrivingWhileBlack, #GoingIntoYourBuildingWhileBlack) and the other offering more wishful aspirations (#WantingToKickOpenPrisonDoorsWhileBlack, #WantingToBeFreeWhileBlack)—as well as architect and designer Theo Deutinger's chilling nonfiction publication Handbook of Tyranny (2018), which uses dozens of frighteningly graphic illustrations to illustrate the relationship between structures of political and economic power and the systematic control of populations.
Participating artists in SUM Artists include Elisabetta Benassi, Vincent Como, Jennifer Dalton, Theo Deutinger, David Diao, Mary Beth Edelson, RYAN! Elizabeth Feddersen, Daniel Feral, Richard Garrison, the Guerrilla Girls, Alfred Jensen, Mike Mills & Experimental Jetset, Loren Munk, Eadweard Muybridge, John O'Connor, Wendy Red Star, Faith Ringgold, Leslie Roberts, Dread Scott, Ward Shelley, Batia Suter, Athena Tacha, Massimo Vignelli (with Joan Charysyn and Bob Noorda of Unimark International Corporation), and John Zinsser.
The Hamilton College Library Special Collections are loaning works by Sebastian C. Adams (1825–1898), Jonathan Cummings (1817–1894), Kerista community member Even Eve (active 1970s), William Law (1686–1761), and Ezechiel Sangmeister (1723–1784).
SUM Artists is curated by Matthew Deleget and Rossana Martínez, visual artists, educators, and arts professionals who have collaborated on a wide array of projects over the past twenty-five years. In 2003, they co-founded and currently direct the inventive Brooklyn gallery MINUS SPACE, which presents the past, present, and future of reductive art on the international level. Together they have curated and produced nearly a hundred exhibitions on three continents.
Past Exhibition-Related Events:
Saturday, February 15
4:00–6:00 P.M. | Opening Reception
Wellin Museum of Art
Celebrate the opening of the exhibition, SUM Artists: Visual Diagrams and Systems-Based Explorations
Wednesday, February 19
4:30 P.M. | Artists in Conversation: Matthew Deleget, Rossana Martinez, and Loren Munk
Co-Sponsored by the Art Department
Bradford Auditorium, Kirner-Johnson Building
Curators Matthew Deleget and Rossana Martinez will be in discussion with artist Loren Munk.
Thursday, February 20
4:30 P.M. | Gallery Walk-Through
Wellin Museum of Art
Curators Matthew Deleget and Rossana Martinez will lead a gallery walk-through and discussion of the exhibition.
Thursday, February 27
4:00 P.M. | Spring Evening of Art for Educators
Wellin Museum of Art
This interdisciplinary event for K-12 teachers and administrators introduces the current exhibition and features curriculum-friendly project demonstrations.

Tuesday, March 10
5:00 P.M. | Director's Tour
Wellin Museum of Art
Led by Tracy L. Adler, Johnson-Pote Director, this tour will provide a behind-the-scenes look, inclusive of the challenges and triumphs, of installing a group show at the Wellin.

Tuesday, April 14
4:30 P.M. Eastern | Instagram Live
Artist Wendy Red Star will present a lecture via Instagram Live related to her artistic practice. Submit your questions for the artist by 12:00pm on Monday, April 13, to wellin@hamilton.edu.
Image Credit: Exhibition installation view of SUM Artists. Photograph by John Bentham.