50th Anniversary Edition of Harrington's The Other America Has Introduction by Isserman
---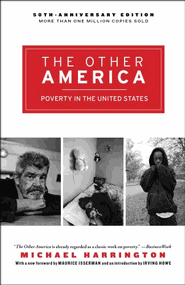 To commemorate the 50th anniversary of the publication of Michael Harrington's The Other America on March 6, the publisher Scribner is releasing a new edition. It includes a new introduction by Harrington's biographer Maurice Isserman, the Publius Virgilius Rogers Professor of American History. The publisher calls The Other America "a landmark treatise on poverty in America." Isserman wrote a New York Times op-ed on Harrington's influence (March 3, 2012).

Michael Harrington was the dean of American Socialism and chairman of Democratic Socialists of America.

Scribner notes, "When Michael Harrington's masterpiece, The Other America, was first published in 1962, it was hailed as an explosive work and became a galvanizing force for the War on Poverty. This illuminating, profoundly moving classic is still all too relevant for today's America. It is considered to be one of the most significant works on poverty, and has enlightened everyone from sociologists to politicians.

The publisher adds, "Now 50 years later amidst the greatest economic recession since The Great Depression, this book resonates louder than ever before. With one in six Americans living below the poverty line Harrington's book forces us, once again, to open our eyes and acknowledge the poverty around us. Harrington used The Other America to call middle and upper class citizens to duty in fighting American poverty. Now this work of continuing relevance should become a handbook for the Occupy Wall Street movement. Considering the times we face today Harrington's message is vital in helping to rebuild our broken country."