A Lesson Learned: Our Nation's Debt Then and Now
---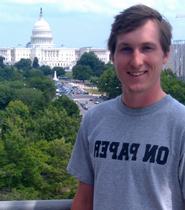 Scott Blosser '12, a 2011 Levitt Fellow, is spending the summer with Professor of History Douglas Ambrose, researching "Federalism and the Problem of State Debt: The Debate Over and Lessons of the Federal Assumption of State Debt."
In the aftermath of an extended, violent revolution, the United States was born into enormous debt, on both the state and national levels—Alexander Hamilton, the nation's first Secretary of the Treasury, referred to this debt as "the price of liberty." Hamilton recognized the importance of a clean financial record; the debt had to be eradicated in order for the U.S. to have any credibility in the eyes of potential future lenders. Hamilton devised a plan to sell federal bonds to private lenders, with the goal of establishing a nationwide network of backers with a vested interest in the survival of the national government.
Hamilton also sought for the assumption of the massive, post-revolution state debts by the federal government, which he felt was better equipped to deal with the problem. Hamilton's plan met strong opposition from Thomas Jefferson and the anti-federalists, who saw it as an unnecessary and dangerous expansion of federal power. Hamilton's plan was approved as a stipulation of a compromise involving the reestablishment of the nation's capital along the Potomac River. While this compromise resolved the issue of state debt assumption, it did not end the debate over how the federal and state governments were to coexist as separate but unified entities under the umbrella of the United States.
With his project, Blosser aims to gain a greater understanding of the economic relationship between state governments and federal governments, an issue that remains especially prescient today—several states around the country are furiously struggling with budget deficits and the federal government sits atop a mountain of debt. A recent debate in Washington, D.C. has Republicans wondering whether to introduce legislation that would permit states to default on their debts.
Blosser thinks that reading into the past can be a valuable practice in dealing with present problems, and wonders whether Hamilton's federalist philosophy can still be productively applied to modern-day dilemmas. "I hope that my research with shed some light on the economic problems we currently face today and provide a framework for solving those issues," he said.
Hamilton's influence on American government is oft overlooked because he never served as president, but Blosser is thrilled to have the opportunity to study one of America's foremost founding fathers. "As a student of Hamilton College, how could I pass up the chance to study our illustrious namesake and founder who most influenced the world we live in today?" Blosser said. "After all, as historian George Will aptly noted, 'we honor Jefferson, but we live in Hamilton's country."
Blosser, an economics major with a double minor in history and Hispanic studies, says that this project represents an exciting opportunity for him to exercise his passions for economics and history. The economics side of the project will allow him to examine the mechanics of assumption, and his historical research will shed light on the dynamic relationship between state and federal governments. He is most excited about spending the summer working with Professor Ambrose, whose energy and excitement for American history, Blosser says, are infectious.
Blosser is a four-year member of the varsity golf team at Hamilton. This upcoming academic year, he will be a senior intern at the Admissions Office and society editor of the Continental. He enjoys traveling and watching movies.
Blosser is a graduate of Upper Arlington High School in Ohio.