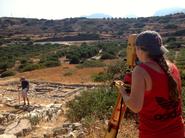 John McEnroe, the John and Anne Fischer Professor in Fine Arts, is co-leader of a team that is working on a complete architectural survey of the town of Gournia on the island of Crete. The work was highlighted in a lengthy article in the May/June issue of Archaeology magazine. "The Minoans of Crete" focused on site excavation that began more than a century ago.
McEnroe and D. Matthew Buell of Trent University are leading a team that is using new technology to create an entirely new site map of an area first excavated in the early 1900s. Use of modern methods has allowed researchers to find rooms and buildings that were not on the original site plans.
McEnroe has worked at the site for several years and has been joined by students doing summer research projects funded by Emerson Grants and the Arthur Levitt Public Affairs Center.