Arts Career Panel Brings Distinguished Alumni to Campus
---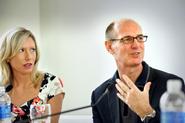 "The art world" is an abstract concept, consisting of careers in everything from law to painting to history. To an undergraduate, the concept of entering this fickle, fast-paced arena may be overwhelming or intimidating. During Fallcoming Weekend, Associate Professor of Art History Deborah Pokinski led an alumni panel discussion on "Careers in Art," attracting dozens of students seeking advice. The discussion was held in the newly opened Wellin Museum of Art.
The alumni panel included Jackie Brown '04, artist and visiting assistant professor of art at Ursinus College; Jordan Crosby '01, arts and education consultant and art education graduate assistant at The Palmer Museum of Art at Penn State University; Ruthie Dibble '07, a Ph.D. candidate in art history at Yale University; Mary Rozell '84, the director of art business at Sotheby's Institute of Art, and the principal of Art Collection Management; and Michael Scott '81, artist. Their highly varied backgrounds in the art world allowed them to offer advice and relate their experiences from a broad range of perspectives.
At first glance, art may appear to be a specialized craft requiring technical training above all else. On the contrary, the liberal arts degree that the panelists got from Hamilton helped them view art from a variety of angles and to adapt to changes in their career and in the art world.
Crosby explained that, though she realized she would require graduate school to achieve her goals, her experiences at Hamilton prepared her to tackle challenges with confidence. Looking back at the early years of her career, she is proud that she felt secure enough in her art knowledge to approach a variety of professionals and engage them in conversation. Brown and Dibble echoed this sentiment, emphasizing that writing in particular helped them significantly in their careers.
In fact, some panelists did not develop a love of art or a conviction to work in the art world until they came to Hamilton. The liberal arts approach to learning at the College inspired them to pick a major which they loved and in which they could excel, both academically and professionally. Rozell, for example, started Hamilton as a prospective chemistry major. She always enjoyed art but felt pushed into the sciences. Rozell explains, "I felt like a failure," when she couldn't compete with other chemistry students. After discovering her passion for art history, she eventually became a French major with an art history minor.
Similarly, Scott was fond of art his whole life, but it wasn't until one of his art classes in his first year that he realized the interdisciplinary component of art. That one professor "changed the way I thought about art," he says. Since that course, his perspective on art changed from purely visual to conceptual, and he decided to major in art the following year.
With regard to making money in the art world, the panelists agreed that aspiring art professionals must put their passion and energy for their work ahead of their financial desires. For many, establishing a successful career in this industry could take years, and it is important that one's love of art itself remain at the core of his or her motivation. As Scott explains, the best part of being an artist is "making something [in his studio] and believing in its relevance."
Furthermore, all five panelists have expanded their formal education beyond Hamilton, earning master's degrees or Ph.Ds. Though they stressed that there is no "right way" to create a name for oneself in the art world, advanced degrees can help make all the difference for art job applicants. Aside from additional education, many of the panelists also held a variety of positions in the art world over the course of their careers. Crosby noted that exploring different subcategories within art helped her shape a "core idea and core values about the arts. [Switching jobs early in my career] kept me on track and forced me to think in a big way."
Art is undoubtedly a rapidly changing world, and those who choose to pursue it as a career must be resilient, thick-skinned, confident and driven. Though art schools around the country provide an excellent resource for gaining technical skill, not every school can train students' minds the way that a liberal arts education can. By providing students with the knowledge and skills they need to adapt to new situations, Hamilton helps prepare potential artists for this exciting field.