Chaplaincy Hosts Spirituality 101 Week
---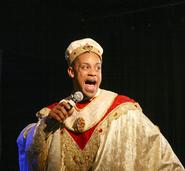 Hamilton College's "Spirituality 101 Week" will take place from Wednesday, Jan. 30, to Sunday, Feb. 10. This 12-day program brings together a number of religious speakers and performers to Hamilton College to increase spiritual awareness on campus. The events are hosted by the Hamilton College Chaplaincy.
The first event takes place on Wednesday, Jan. 30, at 5:30 p.m. in the Chapel Loft. Shinge Roshi Roko Sherry Chayatt from Syracuse Zen Center will visit for a sitting meditation and lead a discussion on spiritual practice, followed by Minar Indian food.

A kosher gospel concert with Joshua Nelson will take place on Thursday, Jan. 31, at 7 p.m. in the Fillius Events Barn. Nelson is the creator of kosher gospel, Hebrew songs sung in the African-American gospel tradition. Nelson has performed for a wide array of audiences, including Oprah Winfrey who named him "the next big thing." Nelson's appearance is co-sponsored by Hamilton Hillel and Christian Fellowship. A buffet of Middle Eastern food will precede the performance at 6:30 p.m.

An "Open-Mic Worship" will take place on Sunday, Feb. 3, at noon in the Fillius Events Barn. The worship will include a variety of music, poetry and songs and will be led by Hamilton's Adjunct Chaplain Roxanne Bellamy-Campbell and Chaplain Jeffrey McArn.

The film "Reel Bad Arabs: How Hollywood vilifies people," which studies the negative portrayal of Arabs in the media, will be screened on Monday, Feb. 4, at 4 p.m., in the Red Pit, KJ. The film features former CBS News correspondent Dr. Jack Shaheen, who analyzes demeaning scenes and images of the Arab culture taken from various American movies.

A film studying homosexuality and Christianity titled "Love Free or Die," will be screened on Tuesday, Feb. 5, at 7 p.m. in the Taylor Science Center's Kennedy Auditorium. This film follows the story of Gene Robinson, the first openly gay bishop consecrated in the American Episcopal Church. Accompanying the screening there will be a panel discussion featuring Colgate University Professor Lesleigh Cushing, Adjunct Episcopalian Chaplain Tim Reger and Professor Brent Plate of Hamilton's religious studies department. The screening is co-sponsored by Hamilton's Rainbow Alliance and the Hamilton Spirituality Initiative.

Yoga instructor Eliza Moore will hold a session, "The Spirit and Practice of Yoga," on Friday, Feb. 8, at 4 p.m., in the Blood Fitness Center's Multipurpose Room. Moore is a divinity student from Montreal and brings her spiritual awareness to the practice of yoga.