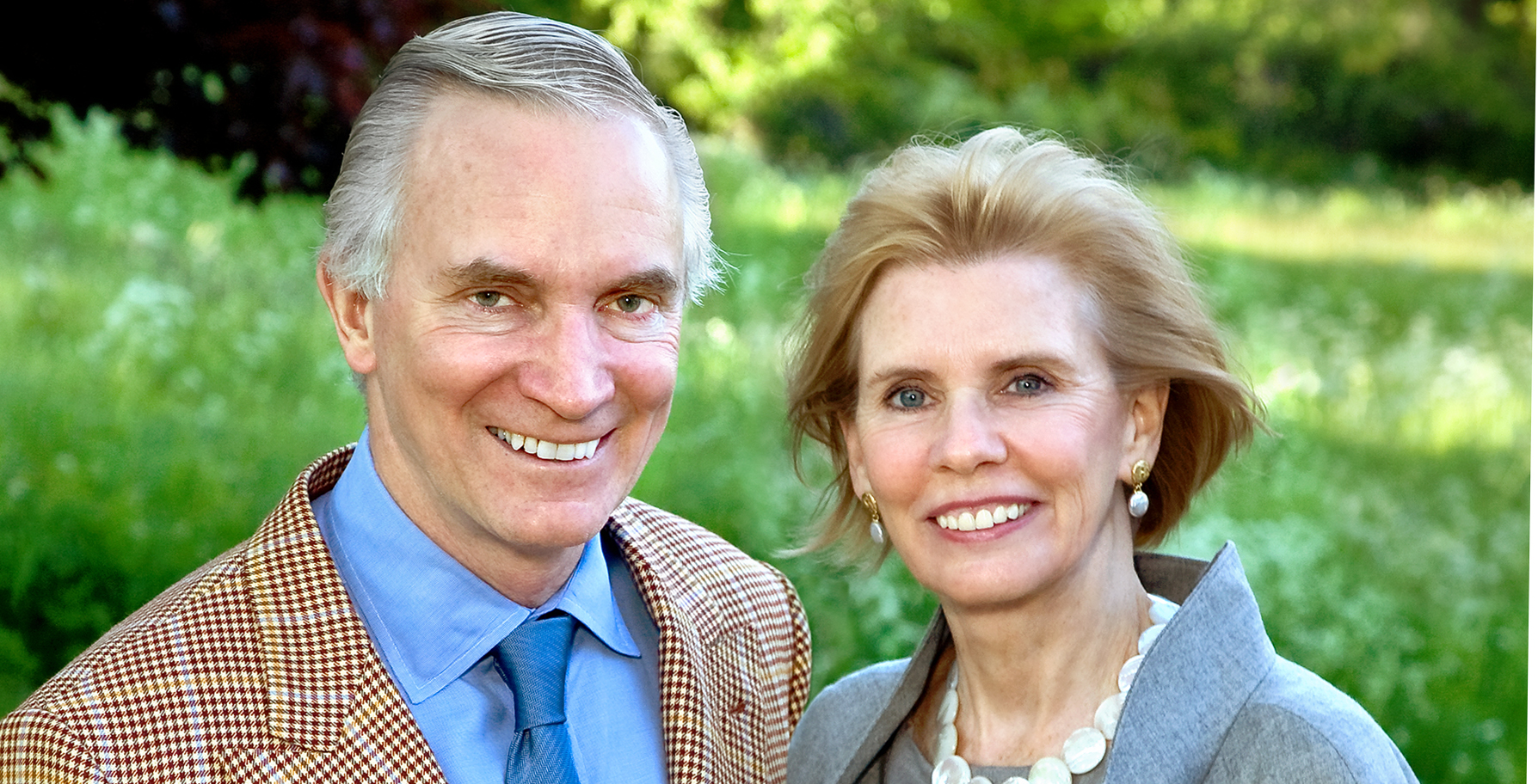 Hamilton College will name its theatre and studio arts building for Kevin and Karen Kennedy in recognition of their lifetime giving to the college, including $10 million for the new project. They are the lead donors to the $46.8 million building that is located directly across College Hill Road from the Ruth and Elmer Wellin Museum of Art, which opened in 2012.
The Kevin and Karen Kennedy Center for Theatre and the Studio Arts will open this summer with the formal dedication scheduled for Friday, Oct. 10. Kevin Kennedy is a 1970 Hamilton graduate and a life trustee of the college. He was chairman of Hamilton's board of trustees from 1994 to 2002 when the college began planning for new arts facilities.
"It was clear to me when I became board chairman that the arts facilities we had were antiquated," Kennedy said. "I was in a production or two in Minor Theater in the late 1960s and it was pretty clear then that it was not a first-class theater. We learned from our experience with the sciences that new facilities attract more students. These new facilities will attract more students with interests in the arts and theatre."
"Karen and Kevin Kennedy are discerning patrons of the arts and of Hamilton," said President Joan Hinde Stewart. "We are deeply grateful for their sustaining generosity and pleased that they are allowing us to name this beautiful new building in their honor."
Kevin Kennedy received his degree from Hamilton in art. After earning an MBA from the Harvard Business School, he launched a career as an investment banker, working for more than three decades with Goldman Sachs and retiring in 2011 as a member of the firm's management committee. He is currently president and chief executive officer of the Metropolitan Opera.
After graduating from Manhattanville College and Columbia University's College of Physicians and Surgeons, Karen Kennedy built a thriving pediatric practice in New York City. Now retired, she serves as founding chair of the Children's Board of Columbia at the Columbia University Medical Center and as co-chair of the American Fellows group of the Whitney Museum.
Kevin Kennedy says he is grateful for his liberal arts education. "I knew that this was the one time in my life I would have this opportunity," he said. "I took speech, dance, math, French, English and history. My education at Hamilton trained me to think broadly and it has served me well throughout my life. That is the essence of a liberal arts education."
The Kennedys are collectors of American art and photography and Asian sculpture.
Filling a Need in the Arts
In making the case for new arts facilities, Hamilton's faculty argued that all students should benefit. On many campuses, Hamilton's arts professors said, there is an implied exclusivity associated with the arts, an implication that these programs exist for the primary benefit of the few who show real promise as art majors and future artists. Such is not the case at Hamilton. The arts at Hamilton are inclusive in nature. They exist for and are truly open to all of the students, regardless of their major or future promise as professional artists.
Professor of Music Sam Pellman led the campus planning committee for new arts facilities at Hamilton. He said that student interest in the arts has overwhelmed the current facilities. Studio arts courses often have waitlists and theatre productions continue to draw full audiences. "Our current facilities continue to be consumed at a great rate and are not healing themselves quickly enough," Pellman said. "We are well past the expiration date for many of these studios, classrooms and performing spaces.
"In the 21st century," Pellman continued, "visual literacy has become as important as the more traditional training for which Hamilton has established a reputation. Our programs in writing and speaking have attracted much-deserved praise and recognition. Our emphasis on collaborative research and scholarship by faculty with students has drawn due attention to the College as well. But perceptive external viewers of the college have begun to ask if we are also prepared to commit to education in visual literacy. With the opening of the Wellin Museum and the Kevin and Karen Kennedy Center," Pellman said, "no one can doubt Hamilton's interest in educating students with an appreciation for and a deep commitment to the arts."
An Overview of the New Spaces
Arts students will benefit from the new building's design, particularly the attention focused on light, according to Pellman. The spaces for senior projects will offer a variety of different lighting conditions to address the varying needs of the students. Ceramic and sculpture studios have been combined, and there will be a wood shop, a casting studio and a hot shop for welding and encaustic painting. Senior art students will have their own studio space within one central area, rather than working in spaces that are currently spread over campus.
The theatre areas reflect the development of a student's education, including a scene and costume design classroom; a seminar room connected to the acting studio for playwriting and other disciplines; and two theatres for hosting performances, including a smaller lab theatre for workshops and senior projects. This progression will bridge student learning with performance, according to Professor of Theatre Craig Latrell. The first floor has a costume shop, dressing rooms, a fully equipped green room and storage.
The Kevin and Karen Kennedy Center for Theatre and the Studio Arts was designed by Machado and Silvetti Associates, the same architectural firm that designed the Ruth and Elmer Wellin Museum of Art. The two buildings face each other across College Hill Road and are aligned to create an arts neighborhood at the western entrance to the campus.