Have You Eaten Real Food Today?
---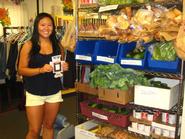 Lauren Howe '12 spent the fall semester conducting an independent study project in which she researched and recorded campus food purchasing at Hamilton. She collaborated with Bon Appétit and Real Food Challenge (RFC), a student-led organization based in Boston advocating "real food" on more college campuses.

According to Howe, RFC is motivated by imperfections in today's food system such as increased rates of obesity, carbon emissions from transporting food, improvable conditions for food service workers, as well as inhumane treatment the nation's current food system.

As part of its vision, RFC's GET REAL! campaign aims to reallocate $1 billion dollars in campus food spending away from the industrial food paradigm to instead purchase "real food," defined by RFC standards as local/community based, ecologically sound, fair and humane. To achieve this, RFC is encouraging students to run the Real Food Calculator on their campuses to reveal the percentage of the total food budget currently devoted to "real food."
Because U.S. colleges invest such an enormous amount of money on food each year (collectively about $5 billion), they serve as a strategic place to begin the shift from industrial to sustainable food sourcing.
With the help of Reuben Haag, executive chef at Hamilton food service provider Bon Appétit, Howe piloted the RFC Calculator at Hamilton by tracking food purchases using past receipts and invoices. She examined paperwork from February and October of 2011, which allowed her to gather a seasonal snapshot of the entire year. Howe limited the scope of her independent study project and focused her research to only include food purchasing for McEwen and Commons.
In addition to the logistical work of transcribing product information from the invoices to an Excel spreadsheet, Howe also visited local businesses from which Hamilton makes food purchases. She interviewed George Joseph, owner of North Star Orchards, who gave her an extensive tour of his property. Howe also visited Bagel Grove in Utica, which supplies all bagels on campus. She met with the owner Annie Grove and discussed their use of organic ingredients and commitment to workplace democracy and fair labor.

Howe commented, "While my independent study project was extremely challenging, I continued to maintain site of the larger purpose and implications of my work at the campus and national level." She said she learned more about food certification, the process of food sourcing on campus, as well as the philosophies and practices of our campus dining service and food companies and producers. "I feel empowered knowing I took on something bigger than myself, as it was more than just a one-credit semester project, but rather, an endeavor that has the potential to leave a lasting legacy on campus," Howe remarked.
Howe's research revealed that 15 percent of Hamilton's food budget is devoted to real food. She notes that "This is mainly comprised of food products in the local category, as well as some organic. Bon Appétit is doing a phenomenal job sourcing local produce and dairy especially." With 85 percent of the food budget still going toward conventionally produced foods, Bon Appétit purchasing is not without room for improvement (Hamilton is slightly below the national average of all pilot schools - about 17.5%).

Howe is a co-founder and co-leader of Slow Food Hamilton College, and announced plans to form a food systems working group of faculty/ administration and students. This group would be responsible for advancing the real food initiative on campus. "Shifting from 15 percent to 20 percent real food is only a 5 percent increase in eight years, and I'm optimistic that this goal is within reach," Howe concluded.