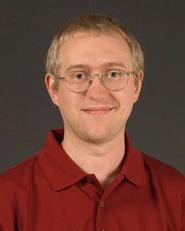 The Molecular Educational Research Consortium in Undergraduate Computational chemistry (MERCURY) has received a $200,000 award from the National Science Foundation to further its work utilizing computational chemistry techniques to provide productive and educational research experiences for undergraduates.
MERCURY was founded at Hamilton in 2001 to share equipment and expertise among computational chemists at primarily undergraduate institutions and currently comprises 17 investigators at 16 institutions including Hamilton's Assistant Professor of Chemistry Adam Van Wynsberghe. The funds will be used to acquire additional computing power in the form of a Beowulf-style cluster with a low-latency interconnect and significant physical memory to enable both highly parallel molecular simulations and quantum chemical investigations.
The cluster will be housed at Bucknell University where the director of MERCURY and former Hamilton Professor of Chemistry George Shields is currently dean of the College of Arts and Sciences. Bucknell also recently hosted the 11th annual MERCURY conference at which both Leah Krause '14 and Rob Clayton '15 presented their summer research.