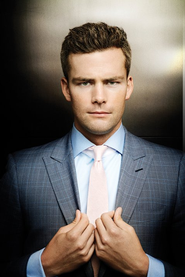 Ryan Serhant '06 will star in the third season of Bravo's Million Dollar Listing New York, premiering April 2 at 9 p.m. (eastern). Cameras follow Serhant everywhere as he competes with two other brokers for clients and properties. According to Bravo, the premiere of season three will find Ryan listing a $23 million one-of-a-kind apartment that has never-before-seen features.
Upon graduating, Serhant committed to acting and moved to New York City. While maintaining his passion for acting, Serhant decided to try a career in real estate. With NestSeekers International, he has sold nearly one billion dollars in real estate since 2008 and is ranked as one of the top 20 real estate brokers out of 28,000 in New York City by The Real Deal Magazine.
In addition to his successful television and real estate careers, Serhant also recently finished filming While We're Young, a movie starring Ben Stiller, Amanda Seyfried, Naomi Watts and Adam Driver. The film is in post-production, and will be released in 2015.
Serhant has also filmed a series of webisodes entitled Realty Bytes, with scripts written by Jason Paulino '06 and assistant/licensed real estate broker, Olivia Robertson '12.
Serhant graduated from Hamilton with a degree in English literature and theatre, and was a member of Delta Kappa Epsilon. Follow him on Twitter and Facebook to keep up with Ryan's busy New York City life.