Students Utilize Bacteria Derivation to Battle Cancer
---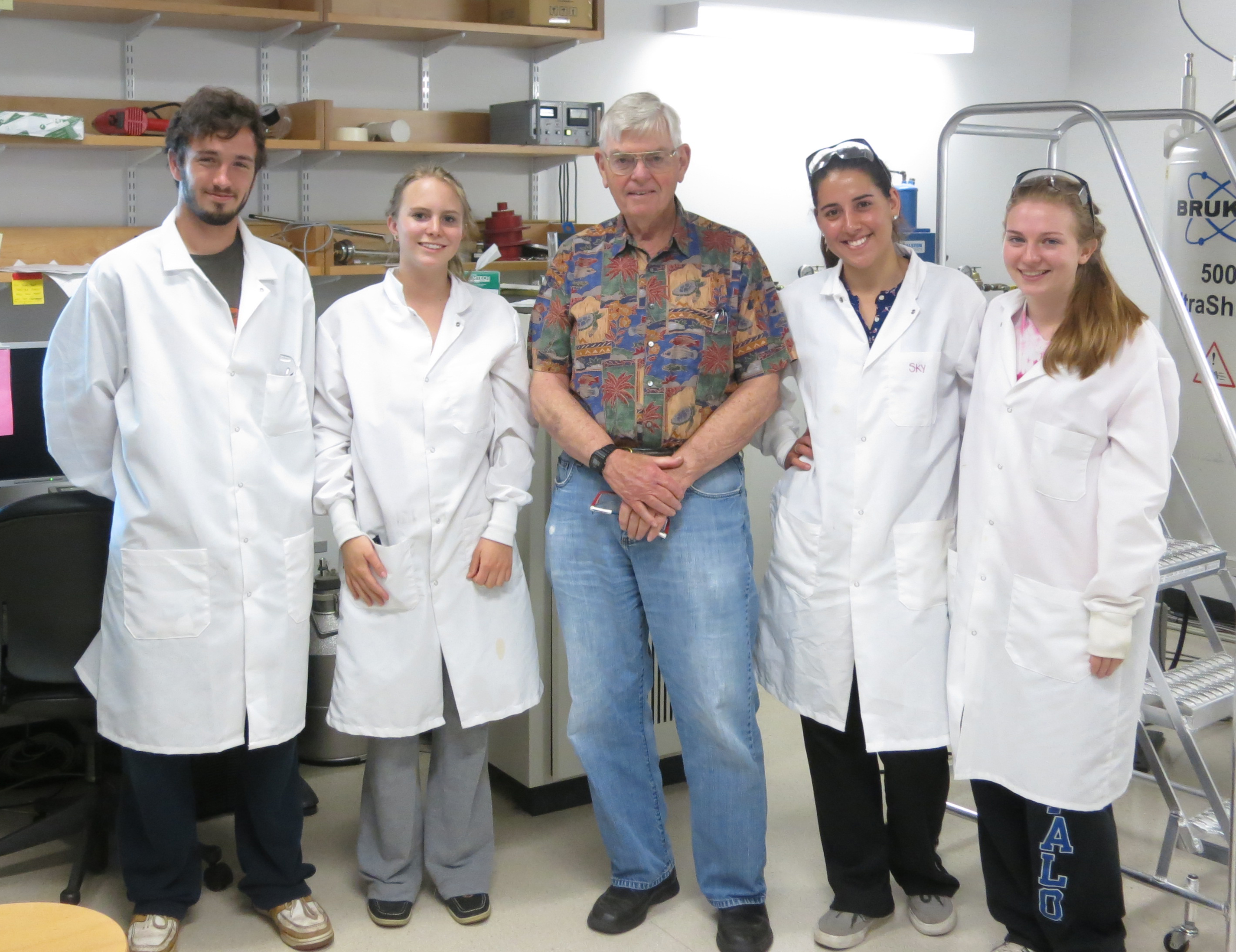 Substantial improvements in cancer detection and treatment have been made over the years, and Hamilton students are concentrating in that research area as well. Traditional cancer treatments, such as radiation therapy and chemotherapy, are relatively invasive and attack cancerous and non-cancerous cells alike. These techniques may diminish or eliminate the cancer, but not without potentially detrimental side effects that leave the body distressed and fatigued. New therapies are being developed to specifically target cancerous cells in order to have safer and more efficient treatments.
Synthetic peptides are a relatively new focus in cancer research and can potentially act as both cancer vaccines and treatments. These peptides are artificially created in a lab by joining amino acids together with peptide bonds. Some synthetics are already in the production stage, but there is much more room for improvement with the techniques to do so.
The Hamilton group is examining the peptide crypotmaldamide, which Robin Kinnel, the Silas D. Childs Professor of Chemistry Emeritus, discovered and named. The unique tripeptide was cultured from cyanobacteria, or algae, which is known for producing toxic algae blooms in nature. This specific peptide has a very similar chemical structure to an existing cancer drug currently on the market. However, when cryptomaldamide was examined, it seemed to have less anti-cancer capabilities than the existing treatment.
Sky Aulita '15, Krystine Choinski '15, Laura McCormick '15, and Bryce Timm '15 hope to develop an efficient synthesis pathway for cryptomaldamide and make it a more viable cancer treatment. Previous attempts at this synthesis have involved necessary, and timely, purifications at the end of each procedural step. The group is trying to find a fast and efficient method to produce the peptide in order to make it both more accessible and a more effective cytotoxin, or chemical that is toxic to specific cells.
Work performed in the lab this summer could have substantial implications on the treatment of cancers. Environmental effects or genetics can trigger unregulated cell growth and result in malignant tumors. The harmful effects of various cancers develop as a result of this improperly regulated cell growth Cryptomaldamide can function as a cell division inhibitor by reducing the amount of tubulin produced. Tubulin forms into different structures and is used for the vital cell activity of segregating genetic material. Without tubulin to perform the essential step, the division of cancerous cells can effectively be prevented.
The group is looking forward to mastering new techniques and learning how to use the college's sophisticated equipment. They have already learned many of the procedures necessary for this research in organic chemistry and other Hamilton courses, but the students are anxious to finally apply what they've learned in the classroom.
Summer is a time for the researchers to focus on analytical chemistry, where they receive results and must then formulate a new plan based on what they observe. It's a much less controlled environment than the typical chemistry lab during the school year. This summer research will teach the students how to think ahead and solve problems encountered in the lab. The group will also gain valuable experience in presenting their findings when they attend a small conference hosted by Colgate University at the end of the summer.
The group does not expect the summer to be easy, though. Timm spent almost five weeks on a single step last summer when his team ran into difficulties. Working with amino acids proves to be troublesome and certain procedures that are published in papers do not always work when applied to the groups' specific peptides. Cryptomaldamide is also a new peptide that has never been analyzed in a published work before, so the group must experiment with the reagents in order to find their own optimal interactions.
Timm performed similar research last year, and he is looking forward to continuing the work through this summer. He is utilizing research performed by John Michael '13, and hopes potentially to carry the topic through to his own senior thesis.
Most members of the group were attracted to Hamilton for its blend of sciences and liberal arts. McCormick is taking full advantage of Hamilton's open curriculum by completing a biochemistry major with a minor in philosophy. McCormick is also an EMT, a member of the Young People's Project and an athletic trainer's aid. Choinski and Aulita are members of the Hamilton track team and Choinski is also a member of the cross-country team. Aulita is a singer in the Hamiltones, a member of the choir, and a tour guide. Timm is a member of the men's rugby team, an Adirondack Adventure leader, a teaching assistant for the chemistry department, and a campus DJ.
Timm is a graduate of Dripping Springs High School (TX.). Aulita is a graduate of Alden High School (NY.). Choinski is a graduate of Schoharie High School (NY.) McCormick is a graduate of Hauppauge High School (NY.)