Tewksbury Receives Grants to Study Desert Eyes in Egypt
---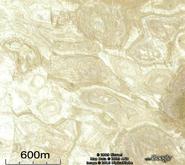 Professor of Geosciences Barbara Tewksbury has received a 3-year grant from the National Science Foundation (NSF) to study enigmatic domes and basins in the bedrock of the Western Desert of Egypt. The structures occur in remote areas and have been largely unrecognized and unstudied. Recent high resolution satellite imagery has made it possible to study these structures. In another grant, DigitalGlobe will allow Tewksbury to receive free multispectral imagery from the WorldView2 satellite for a portion of the research area.

The Desert Eyes Project is a collaborative project between Tewksbury, the lead principal investigator, and three faculty from Missouri University of Science and Technology. The $150,000 grant from NSF will provide funding for Tewksbury and her colleagues to carry out field research over three years in two areas in the Western Desert, one southwest of Assiut and one southwest of Aswan. Drs. Mohamed Abdelsalam and John Hogan will join Tewksbury as structural geologists for the project, and Dr. Kelly Liu will be responsible for conducting shallow seismic surveys of the research area. The grant will fund the four faculty members as well as eight American graduate and undergraduate students to work in Egypt for one month in each of the three years of the grant. Hamilton will provide matching funding to cover field expenses during the same period for five Egyptian faculty and four Egyptian graduate students from Alexandria University, Sohag University, Assiut University and South Valley University, Aswan.

The Desert Eyes Project will accept applications from interested students during spring semester, 2011. Students must have completed courses in structural geology, GIS, and either sedimentary geology or geophysics by the fall of 2011, when the pre-trip seminar will be held.