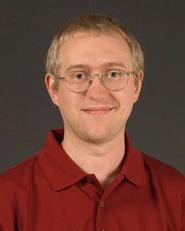 Assistant Professor of Chemistry Adam W. Van Wynsberghe presented a seminar titled "Hitting the Target: Simulations of the ligand binding pathways of influenza neuraminidase" on Oct. 16 at Colgate University. The seminar was co-sponsored by Colgate's chemistry and biology departments and primarily described the work of three undergraduate researchers in the Van Wynsberghe lab: Erica Losito '12 and Carmen Montagnon '13, as well as Jeffrey Sung of the University of California-San Diego.
The students used Brownian Dynamics simulations to investigate the kinetics and mechanisms by which small molecules bind to the viral protein neauraminidase, an enzyme important in the replication cycle of the influenza virus. Contributions by Carlos Rico '10, Jeremy Adelman '13, Alvin Wu' 13, Dan Mermelstein '14 and Leah Krause '14 were also discussed.

The Van Wynsberghe lab studies protein flexibility and dynamics using a variety of computational and theoretical techniques. The lab's goals are to develop and utilize molecular simulation methods to investigate biological and biochemical systems from a physical and chemical perspective.