Guttman's Poetry in Collaborative Exhibition
---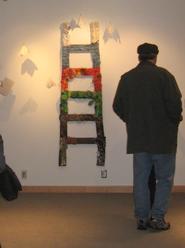 Poetry by Professor of English and Creative Writing Naomi Guttman is on display as part of "Dream Weavings: Interpretations through Collaborations," an exhibition at the Tychman-Shapiro Gallery in Minneapolis.
For the show, visual artists were asked to collaborate with artists working in other media to interpret their favorite dream stories from the Bible. Guttman and fiber artist Deborah Weir collaborated on "Jacob's Ladder," for which Weir wove a six-foot sculpture and Guttman wrote a series of six poems. Gallery visitors can read the poems in booklets hung next to the sculpture and can also listen to them on a recording.
"Dream Weavings" is on display through Feb. 21.