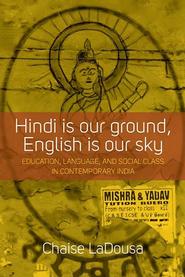 Hindi Is Our Ground, English Is Our Sky, a book by Associate Professor of Anthropology Chaise LaDousa, was recently published by Berghahn.
LaDousa said that changes in India's economy have spurred a desire to learn English and, that because English is associated with globalization and employment opportunities, it is the language of choice for most scholars and media venues. But, he said, class mobility "involves Hindi as much as English in the vast Hindi-Belt of northern India" and that schools are divided by Hindi and English.
In his book, he demonstrated that "that the school division allows for different visions of what it means to belong to the nation and what is central and peripheral in the nation. It also shows how the language-medium division reverberates unevenly and unequally through the nation, and that schools illustrate the tensions brought on by economic liberalization and middle-class status."
Kira Hall of the University of Colorado, Boulder said Hindi Is Our Ground, English Is Our Sky "provides an excellent discussion of education, language, and social class in contemporary India" and said it "will make a significant contribution to diverse disciplines engaged in the study of language and society."
The book will also be published by Cambridge University Press in South Asia.
In October, LaDousa's first book, House Signs and Collegiate Fun, was reviewed in Anthropology News for its use in the classroom.