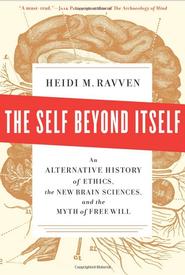 Professor of Religious Studies Heidi M. Ravven published a book titled The Self Beyond Itself: An Alternative History of Ethics, the New Brain Sciences, and the Myth of Free Will (The New Press, 2013).
In 2004, Ravven received an unsolicited grant of $500,000 from the Ford Foundation to write a book that would rethink ethics from a new perspective. She interpreted the mandate to mean an investigation of why people are ethical, why they are not, and how to get them to be more ethical – this is the problem of moral agency.
According to Ravven, the book takes a broadly multi-disciplinary approach, engaging research ranging from perpetrators and rescuers in the Holocaust, social psychology, affective and cognitive neuroscience, the history of Western theology and philosophy and the Arabic and Jewish philosophic tradition.
Susannah Heschel, Eli Black Professor of Jewish Studies at Dartmouth College, said The Self Beyond Itself "is the most brilliant, original book on ethics in decades!" and called it "a fascinating book for everyone concerned about education, politics, history, philosophy, religion and the survival of human society."
Kirkus Reviews said the book contains "scholarly essays packed with closely reasoned arguments from the author and fellow academics, plus extensive historical analyses of thinkers from Aristotle to Spinoza to Malcolm Gladwell" and said that "reading this book is a stimulating experience."
Professor Pat Longstaff of Syracuse University's S.I. Newhouse School of Public Communications said The Self Beyond Itself is "a perfect book for thoughtful people who wish they had taken (or wish they had paid attention in) a philosophy class in college. The real-life examples render the ideas very accessible and illustrate how our concepts of 'self' influence everything we do."