PaperCut Account Management
Last updated: May 30, 2023
PaperCut is a quota-based print management system designed to monitor and control campus network printing resources, reducing our printing costs and environmental impact.
For specific information on how to print, please consult the following page: Printing at Hamilton College.
PaperCut™ Print Management
Individual student quotas are as follows (these are all reset on the first day of classes each semester):
Seniors - $70
Juniors - $65
Sophomores - $45
First year - $30
Student organizations that have access to printing have quotas set at $25. Requests for additions to student organization quotas are made through the Student Activities Office.
Students who work for faculty and have substantial printing as part of their job can obtain "top-up" cards to increase quotas via their faculty supervisor.
Summer students are assigned a quota of $28.
Any students with special needs should contact Allen Harrison (aharriso) for adjustments to their quotas.
Printing costs are as follows:
B&W, single-sided: 0.05
B&W, two-sided (duplex): 0.07
Color: 0.15/side.
Students who deplete their print quota can add funds to their PaperCut accounts using their Hill Cards via their PaperCut account page. See "Accessing PaperCut" below for details.
Accessing PaperCut
PaperCut lets you view your print history and displays various details about the printouts and their environmental impact. Any questions about how to access your PaperCut account, see your balance, or add money to your quota can be answered by contacting the LITS Help Desk at x4181.
From a Lab, Classroom or Office Computer:
Open the Papercut app and click Details.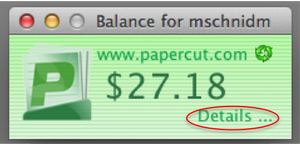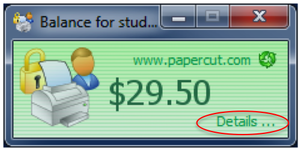 Sign in with your MyHamilton username and password.
From a personal computer:
Go to the PrintX website at https://printx.hamilton.edu:9192
Depending on your browser, you may see a message about the website's security certificate.

Firefox: Select Add an exception.

Enter your MyHamilton username and password.
Managing PaperCut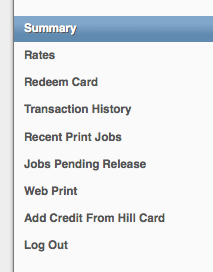 Summary gives you a summary of your PaperCut usage, including your environmental impact.
Rates list the current prices for printing.
Redeem Card allows you to add funds to your PaperCut account through a card purchased from ITS.
Transaction History details your transactions for the past fifteen days.
Recent Print Jobs lists your specific print jobs for the past 15 days.
Jobs Pending Release lists which jobs are queued to be printed.
Web Print allows you to print to any printer remotely. See here for more details.
Add Credit From Hill Card allows you to add funds to your PaperCut account from your Hill Card.
Log Out securely exits the PaperCut management page.
Frequently Asked Questions
How can I get a refund if I experience a printing problem?
If there is a problem with your printout (e.g., paper jam, low print quality), you can request a refund by logging into your PaperCut account details page (https://printx.hamilton.edu:9192), clicking Recent Print Jobs, and using the Request Refund option for the print job that failed. Once submitted, the system triggers an email that will alert us that a refund has been requested, which we can approve or deny.
What if I exceed my allotted quota?
You will receive a low balance notification when your balance reaches $5.00. You are also allowed an overdraft limit of $2.00. Once you reach the overdraft limit, you will have to add to your quota in order to print. Individuals who go beyond their quota can add credit from their Hill Card by logging into their Papercut account details page (see above).
How can I print for my student organization?
Student organizations approved by the Office of Student Activities will be allowed to print for their organization only (i.e., no personal use) via their organization's account.
When did the quota system go live?
We started collecting data on Tuesday, September 7, 2010 at 8 a.m. The system became fully operational on January 17, 2011.
Background/History
In 2008-2009, the faculty Committee on Information Technology recommended that we investigate systems for managing printing on campus to help reduce perceived paper waste (save trees), reduce Hamilton's carbon footprint and reduce energy consumption. A task force was set up including faculty, representatives of LITS and students to evaluate alternatives. In the summer of 2009, PaperCut™ was selected and a pilot was conducted during the spring 2010 semester. The system became fully operational in Spring 2011.
We also surveyed peer institutions about the quota systems they used. Initial quotas were set based on the 90th percentile of Spring 2010 usage. (i.e., 90% of students in each class year were able to print without exceeding their quota). As it turns out, Hamilton's quotas are higher than those of our peers!
Most academic departments also asked to restrict department printer access to department printers to only faculty and staff in the departments. This was also implemented using PaperCut.
Office Location
Burke Library
198 College Hill Road
Clinton, NY 13323
Hours
Mon-Thu 8 a.m. - 10 p.m.
Fri 8 a.m. - 8 p.m.
Sat - Sun 10 a.m. - 10 p.m.