Last updated: December 5, 2022
Open Thunderbird.
Click on the Address Book icon at the top.
In the Address Book, go to Tools > Export.
PC Mac
Select Comma Separated from the Save as Type pull-down menu.
Type Contacts in the File Name: field.
Click Save.
Importing contacts into HillConnect
Log into HillConnect at http://hillconnect.hamilton.edu
Click on Contacts in the left-hand column.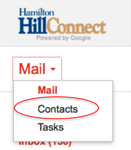 Click Import in the bottom left- hand corner.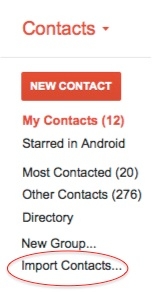 Click Browse.
Locate your Contacts.csv file—by default saved on the Desktop—you just exported from Thunderbird.
Click Import.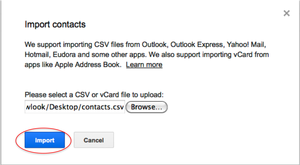 A message will announce the successful completion of the Import process. Click OK.

Click on the imported contacts (in the picture below: Imported 12/13/11). Select More and choose Rename Group. When prompted by a pop-up window, type Thunderbird Contacts. Click OK.
You're all set! Your contacts will appear in the middle column and will automatically be referenced when you compose your e-mail.
Office Location
Burke Library
198 College Hill Road
Clinton, NY 13323
Hours
Mon-Thu 8 a.m. - 10 p.m.
Fri 8 a.m. - 8 p.m.
Sat - Sun 10 a.m. - 10 p.m.